You can't wait for inspiration,
you have to go after it with a club.
Jack London
Our
purpose
is
to
create
experiences
that
matter.
Experiences
that
connect
and
engage.
Your
purpose
as
experiences.
Your
tribe
as
our
priority.
Making
it
matter
as
our
purpose.
A
values
and
purpose
led
response
to
your
brief
delivered
with
over
25
years
of
trust.
And we love earning our clients' trust...
Virgin Australia
We have worked regularly with Tony, Sharlene and the wider Podium team for close to a decade and couldn't recommend them highly enough. From an event perspective, we know we're in safe hands and that everything will run smoothly when Podium is managing the run of show! But more than that, we've grown very fond of the team on a personal level and appreciate their understanding and guidance when plans (or budgets!) change at the last minute. They're always thinking outside the box, know our brand inside out, and we love working with them.
Libby Armstrong, Senior Public Affairs Manager – Operations
Otsuka Australia Pharmaceutical
Sharlene and the Podium team recently managed a 2-day scientific symposium (the first of its kind) in Sydney for one of Otsuka's clients. Podium managed the venue, registration website and invitations, as well as flights, transfers and accommodation for approximately 80 guests, including interstate and international attendees. Sharlene liaised with Otsuka and our client to find solutions that met the needs of both sides, and managed budget as well as comply to strict industry regulations. Sharlene's communication was regular and clear, and she was onto each task as soon as we made a request. The event was a spectacular success and both Otsuka and our client were highly pleased with Podium's customer focus and seamless organisation.
Michelle Ta, Medical Science Liaison
Komatsu
Speaking to some of my team since KOMTRAIN 19 and the assistance you provided in getting our travel etc organised came up. I was heading off on 3 weeks leave when this was happening and my first day back at work was KOMTRAIN 19. We didn't have any issues and I didn't get any questions from my team while I was on leave regarding what the arrangements were. May seem like a small thing however I and my team really appreciated your work. So just wanted to take a moment to say thank you for your effort and attention to detail in checking everything was covered and correct.
Kirk Duffy and Queensland Customer Support Sales Reps
Property Industry Foundation
Podium have produced our annual charity ball in Sydney for the last eight years including our most recent event in July 2019 at the Grand Ballroom, ICC Darling Harbour, that raised over $300,000 to build homes for homeless youth. As well as providing exceptional event management, the team from Podium also play an active role on our ball committee offering entertainment and theming options and AV solutions suited to our needs as a charity to ensure we reach our fundraising targets. We really appreciate their insights and fun ideas that make our events so successful.
Jonny Bastin, NSW Events Manager
Over
1,000
events
where
Podium
has
made
the
difference.
• Conferences, meetings, congresses, incentives
• Kick-off & cycle meetings
• Event registration management, delegate travel
• Team engagement, purpose & leadership experiences
• Press conferences, media events, product launches
• Roadshows, speaker tours, exhibitions
• Gala dinners, award & charity events, cocktail parties
• Corporate hospitality, experiential
• Stage/set design, audio/visual, styling, entertainment
• Medicines Australia code compliant meetings
• Virtual meetings & events
Whether
you
are
looking
for
a
traditional,
virtual
or
hybrid
event
solution,
or
a
purpose-led
learning
experience
for
your
team,
Podium
Business
Events
and
it's
sister
company
Grow
On
Purpose
offers
tailored
solutions
to
suit
any
brief.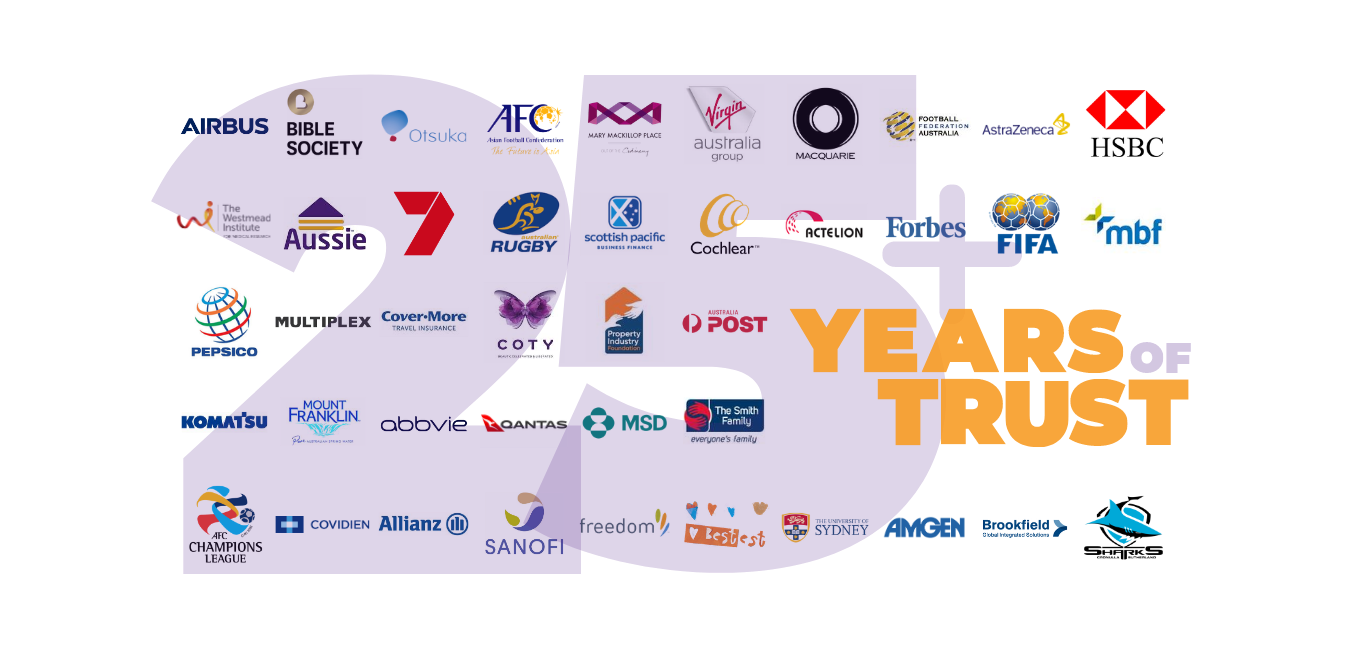 We
proudly
support
the
following
charities
and
NFP's